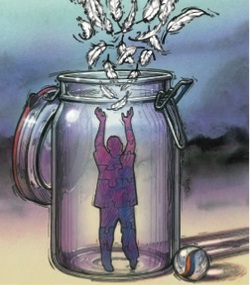 I feel very blessed to announce that I will be playing Lisa in Meadow Brook Theatre's production of "Falling" directed by Travis Walter. The show runs from March 19th-April 14th, 2014.
To view the synopsis & where to purchase tickets, check out the site below:
http://www.mbtheatre.com/20132014Season/Falling/tabid/779/Default.aspx


"Falling" was written by an IWU alumni from '84!
Here is an article that my alma mater recently wrote about her:
http://www.iwu.edu/magazine/2013/Fall/jent.html

"This is an excerpt from Scene Two:

LISA: He could have killed Grammy.
TAMI: But he didn't.
LISA: It only takes one time to be dead. One time.
TAMI: He's not going to …
LISA: He's a freak and he should be locked up!
TAMI: If there was a safe place for him to live don't you think we would have moved him there?
LISA: You keep saying that, but I don't know if you'd think any place was good enough for your precious baby boy.
TAMI: I really am trying to keep you safe. I know he's scary. And
I know you hate him. And that's okay — you can hate him. But moms don't get that choice. (Her voice cracks) We can't help it — we just love our kids, no matter what.
LISA: (fighting back her own tears) It's all just so stupid. Everything. I wish he would just go away forever. "